1
« on: January 13, 2017, 11:46:26 AM »
Now that PE is nearing it's full bloom, I would like to take some time to truely overview the full experience of the Planet Explorers gameplay. This will only cover adventure mode, but it is mostly to make note of anything from bugs in mechanics, to even little things like minor inconveniences and nuisances. I thought I'd give my full rundown on how I feel about the experience, and hopefully insight some correction of some small annoyances that make the experience daunting for people. Whether it is a gamebreaking bug, or me simply stubbing my toe on the assembly core every time i try to run through my colony, I'll document as I go along. I do realize that it's possible that much of this may not be able to be corrected, or that, again, some of it may not be important enough to adjust, but I will document them regardless.
Picture perfect: Character and world Creation
To set the stage, I have begun an entirely new adventure game. I've started in the character creation screen, and have created my character. Rather than being decent though, I am standing in the editor in my underwear. What does someone have to do to get some clothes around here?
It would be nice to have some form of clothing in the creator, with a tickbox for hiding them to help with the modelling. But previews are a very nice thing to have. You can sometimes look a little different wearing outfits than you'd imagine, so unless you plan to run around the game in your underwear, it would be convenient to have some clothe previews. Maybe a few options to check through, or maybe even a few choices of starting clothing, rather than the default black outfit? Just a thought.. (I would also love to see some form of clothing options for the character selection on multiplayer. The naked characters standing there just feels somewhat unfinished and not cared enough for)
I have started my world with the settings below: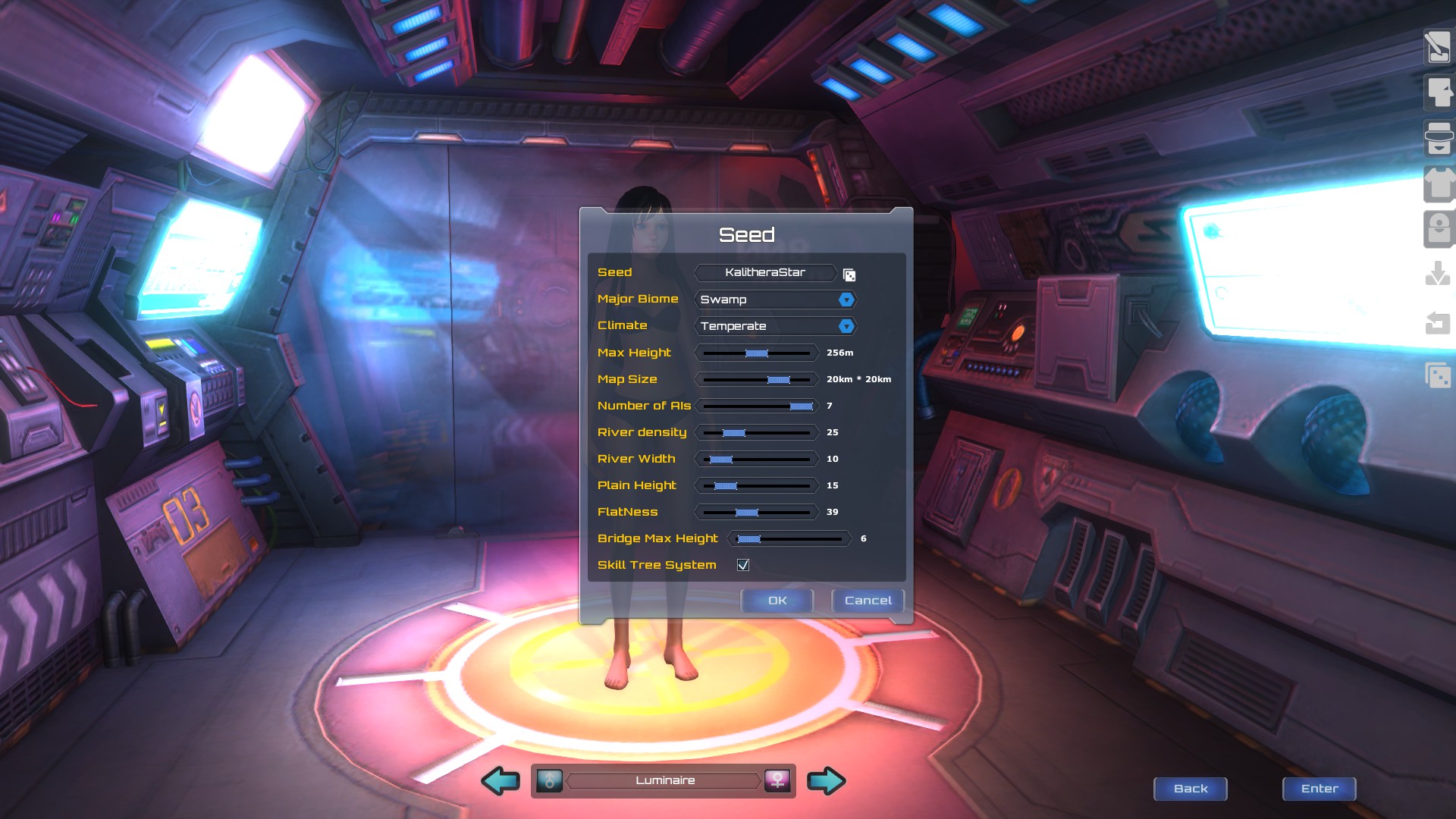 Skill Tree active.
Platform Towns
After starting my world, I entered the game in a small town a bit uplifted from the ground level... a bit.. The music is wonderful, and the atmosphere has this otherworldly feel to it. I love this biome..
But this town.. The first oddity that strikes me.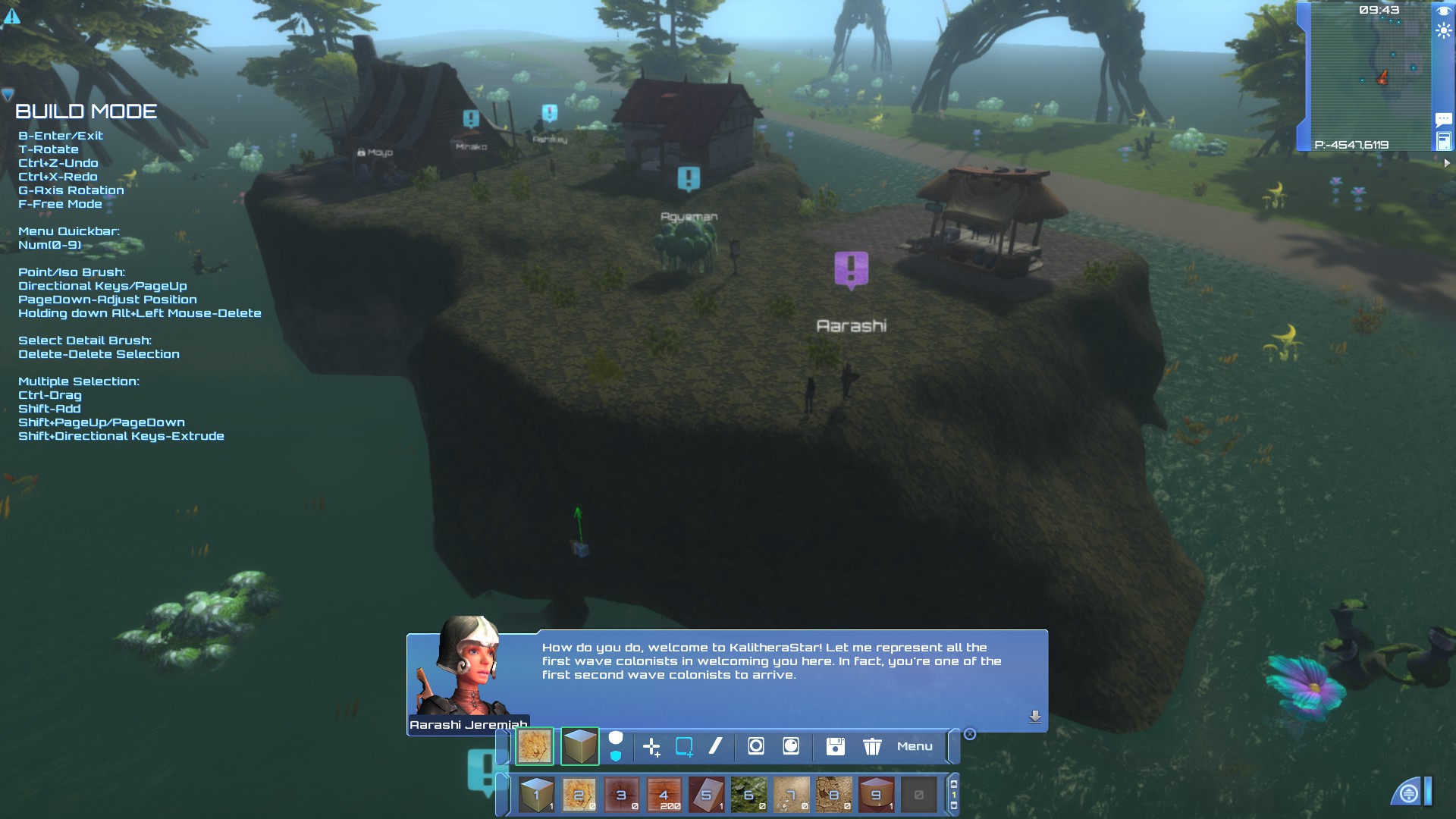 In PE, all towns are raised on these strange platforms. You can't seem to find a town that's gently nestled into the ground as if all people did was clear out a nice spot and start setting up buildings and settling in, like you'd expect. They are raised quite readily above the ground and in most cases are a downright pain just to get into, requiring you to circle the town until you find the large ramp, or exploit wall jumping until you reach the top.. This one, is in the middle of the water.
I am also quickly noticing that this is a lot of water.. So I am hoping that I did not receive less land then I was hoping for, but we'll make do with what we're given, and see where this goes.
Buildmode key inconvenience
After taking this screenshot above from Free look mode, i pressed the B button again to exit build mode and continue on my way. But much to my unexpectation, it didn't exit build mode. I'm required to first exit free look, by pressing F again, and -then- press B again to exit buildmode. Perhaps B should exit buildmode immidiately from free look. I can imagine this might be a problem if i'm building my temple and i come under attack.
***
Mission Location placement
I have accepted the first couple of missions from the townspeople. I was given the starting scripts which range from most all the essentials I can think of. I wasn't given a food script, but atleast the merchant here is selling food, so that shouldn't be too much of an issue. But..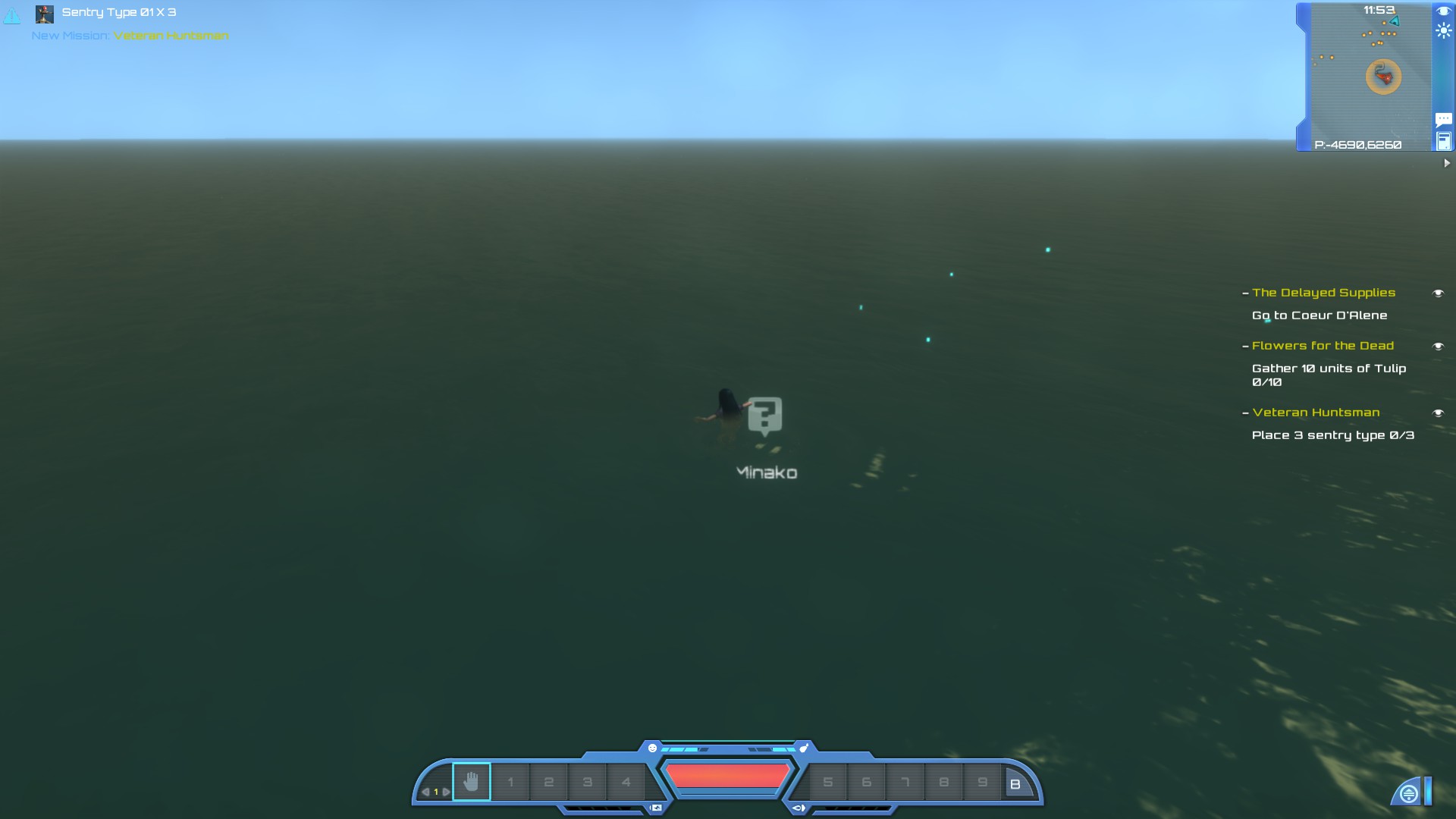 This might be.. This individual has asked me to hunt in the middle of a swampy ocean, but first I need to place turrets.. under water? Can I even do that? We're about to find out.
Yes, yes I can.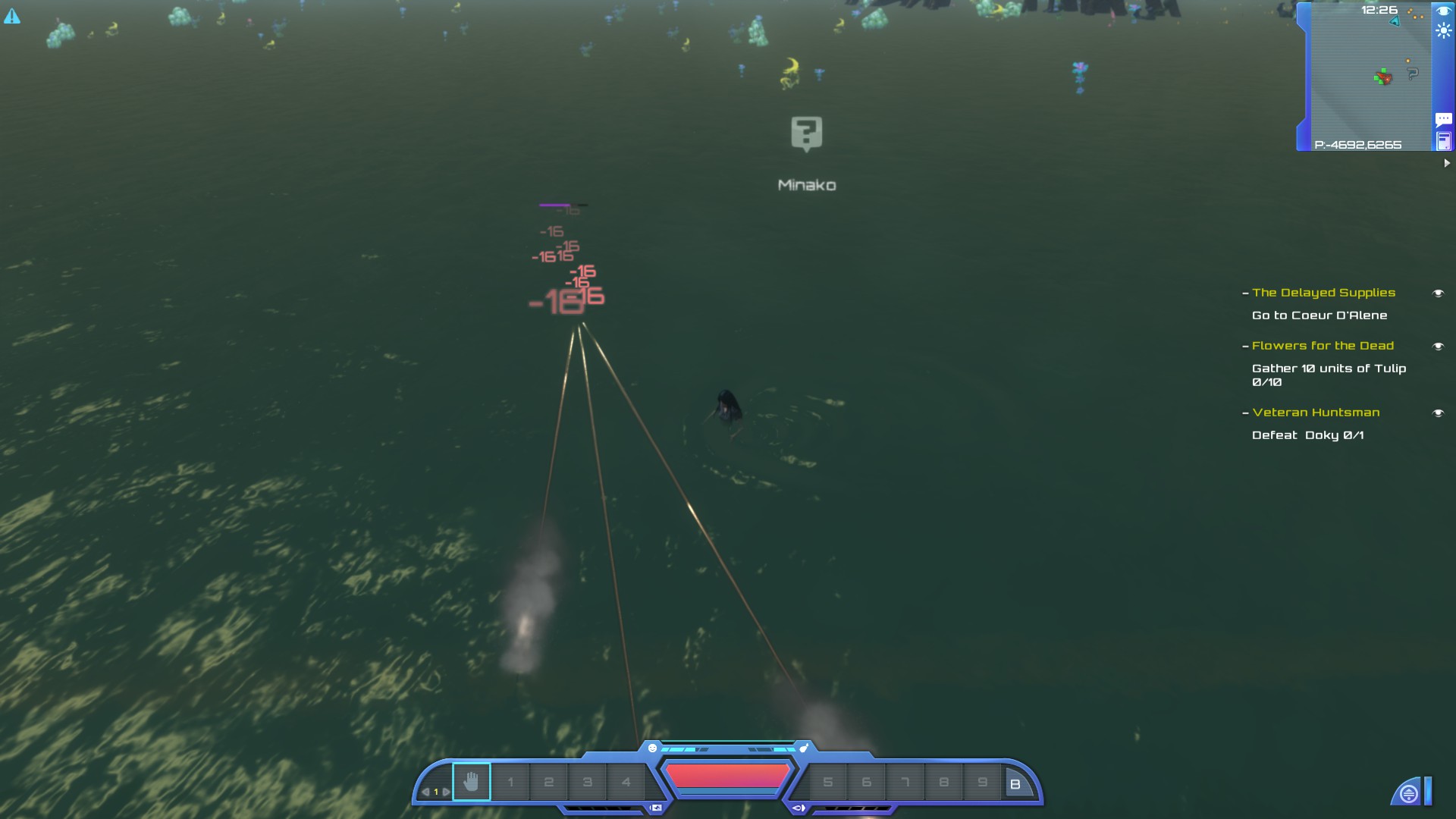 ***
Swimming Camera
Swimming through this water, i noticed something a bit discomfortable, and that is that it was difficult to keep myself both on the surface, and the camera not under water. Since the direction you swim seems to be based off your camera (atleast in my current controls, maybe? My curser is unlocked), if I had my camera above water, my character would swim down. If i tried to correct their angle, my camera would end up under water. It took a little working, but through some camera placing along with the spacebar button, i did manage to level it to a point I could swim across the water surface without issue.
***
Inconsistent plant harvesting box
This is a rather weird one... I have begun harvesting plants, and i've noticed that the icon appearing over the plant to harvest seems very iffy. Sometimes, it appears quite easily, and remains for a large coverage area of me moving around the mouse. no problem there. But if I change direction/position of my character, or even JUSt the camera angle, the same plant may become unclickable, even though the distance I am from it has not increased/decreased. The way I am facing does not seem to be the deciding factor either. The harvesting icon sometimes appears while i'm facing away from the plant, and sometimes is not there while i'm facing it. Distance from the plant, again, doesn't seem to have any impact on whether or not the curser picks it up.
I have experimented a little with trying to get this pick up icon to appear on the same plant. For the most part, it seems there, but it's very inconsistent, and sometimes there is absolutely nowhere I can place my curser for the pick up icon to appear. It is as if the plant is not even there. Camera location or character position/location, or both. Something that shouldn't is interfereing with the ability to get that curser to appear.
***
My first dungeon, totally not prepared! (but that's ok)
I began my first journey, setting out, away from the town I spawned in. Luckily, there is indeed land in this world. How much, I'm not quite sure yet, but atleast enough for me to enjoy the scenery, and that, I certainly did.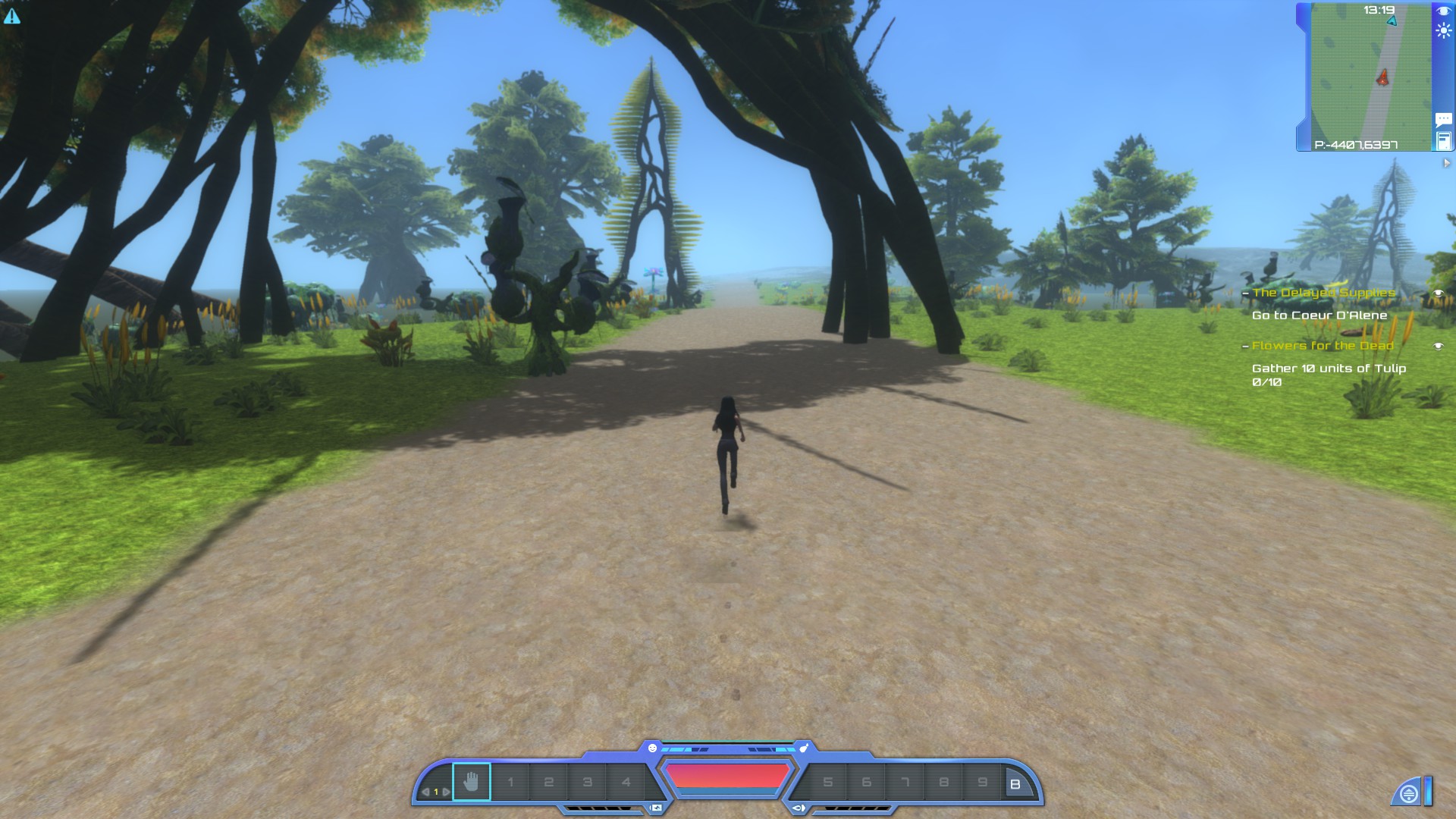 There was even a solo bird that fluttered high in the sky in the distance, across the road, adding to the marvel, a little ways past this. Unfortunately I did not get a screenshot of this..
Along my travel though, I noticed a dungeon off to the side, barely still on land, next to the water. I approached to see what level it was, and much to my glee, it was a level 2. One of those rocky cave dungeons.
I entered the dungeon, well knowing that I couldn't really fight my way through, but I had to see how efficient i could be with my little wooden sword and shield. The enemies unfortunately were a bit too strong, in that i did not manage to lower their hp bars by much before one of them smacked me, reducing my hp to roughly 40%. Owch. Also, my footsteps sound like i'm running on stage props.
Instead of fighting, I decided to run through and grab whatever loot I could. I didn't get a whole lot, but at the end, after looting the final container, I ended up with cortical shoes, and a few bedroom pieces. Not bad for doing nothing. But then ah, how do I exit? This wall infront of me doesn't seem to be working... Oh.. I need to travel up that side rock that looks like a piece of the surrounding wall, leading to what doesn't really look like much of an exit either >.< (No, i didn't manage to cheap an ISO this time)
***
Toe stubs: Sticky terrain collision
Ah, a dreaded issue i've hated for so long, and was sure It would not be long before I would experience, and not long indeed.
I started my first mining expedition against a mountain side, to start off my building material collection with stone and marble. I dug a small wide hole, that was very short. Only a few feet deep, and went to jump out of it when i wanted to move on. (I didn't mine a whole lot.)
But as I did, i ran up to the edge of the hole, and attempted to jump onto the upper ledge. Instead, i played the animation to jump, and moved about a couple inches upwards before colliding into the terrain with my knee, which stopped me in my tracks completely. Further attempts to jump yielded no results. I had to back up, and attempt the jump again, away from the terrain.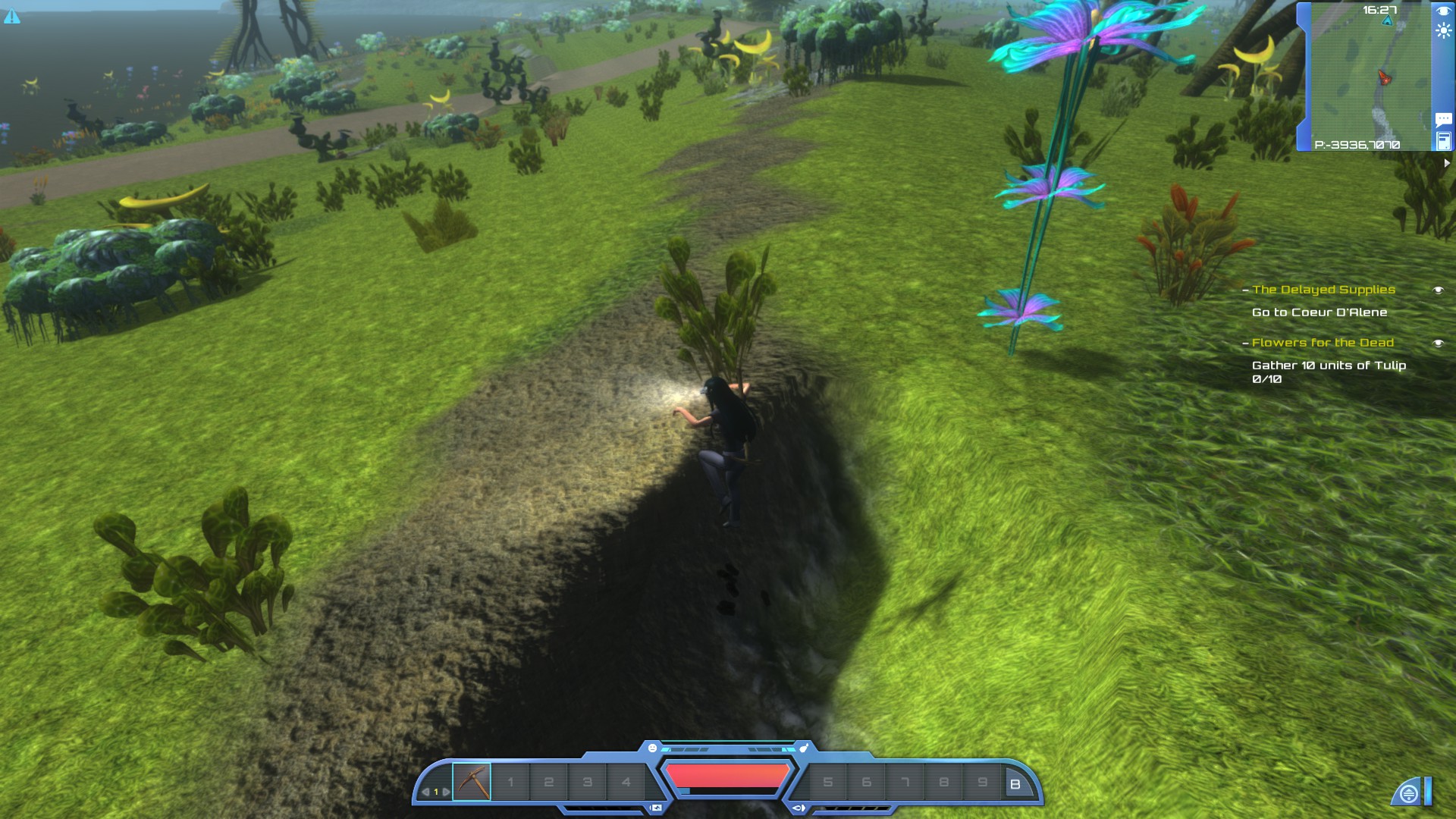 .. Why can do this?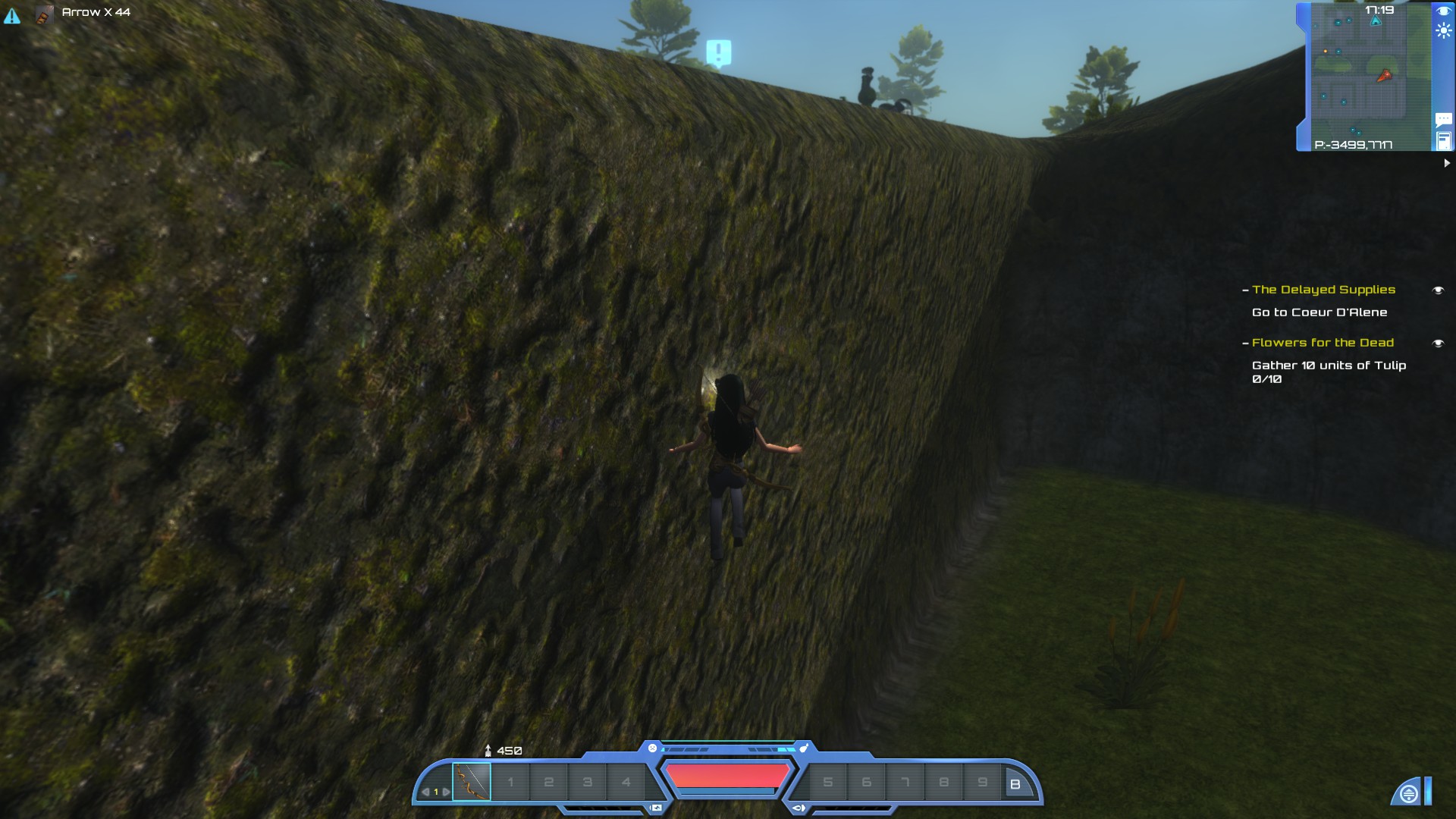 Collisions in PE are just too sticky.. I understand that people do not want to slide on staircases, and slight hillsides while they are trying to cut trees, but surely you can find some sort of medium ground to make this work better. It is a wide issue, not just with terrain, but objects in general too. Running through your colony, you run into corners of your blocks, or edges of machines. The colony assembly core is a nightmare. Trees, plants, and even wildlife have a very strong sticky collision feel to them that is really breaking and unsmooth. It is a very uncomfortable feel.
***
I've come to my next town, and after defeating the secret hideout mischief makers, I'll need to pause my journey here for the time being. But I would like to close for now by saying that PE does seem to have a lot of little potential quality of life adjustments, that I think if polished up a little, would improve player comfort with PE. There are bits here and there that make the game feel a little clunky, aswell as minor inconveniences that tend to add up quickly. I only spent about 3 hours writing this up as I was playing, and did not honestly do a whole lot, but all the above are little things that I ran into in that time. It feels like every activity I participated in, there was at least something that didn't go smoothly.
I adore you developers, and recognize how difficult it's been. Even if PE doesn't become a perfectly smooth gameplay experience, I'm hoping that with your future projects, you can take quite a bit with you from all this, and do even better. Definitely think about some of these things for PE2. Not just features, but the little things as well.
To be continued..